Adamson's work has also taken its place in the longstanding tradition of illustrating stories and poetry for children. First published in 1958, The Faber Book of Nursery Verse adorned with Adamson's drawings soon became a standard work in nursery libraries on both sides of the Atlantic. The particularly successful relationship with Faber begun in the fifties under Dr Berthold Wolpe and David Bland's stewardship and continuing under Phyllis Hunt, the editor of children's books, lasted for several decades.1 Adamson was commissioned by Faber & Faber —and later Puffin Books under Kaye Webb' editorshhip—to illustrate several of Ted Hughes's books for children in their various editions.2 The collaboration began with a typescript for Meet My Folks! sent to Adamson in the spring of 1960. The presence of a Massachusetts address on the manuscript inspired Adamson to give his illustrations to Hughes's poems a New England flavour.
It would be hard to imagine Alan Garner's two modern fantasy classics for children: The Weirdstone of Brisingamen and The Moon of Gomrath, without their colourful and evocative jackets/covers by Adamson. And by the same token it would be hard to imagine the Catweazle books of Richard Carpenter (1929–2012) without Adamson's drawings.
For the new Professor Branestawm books Bodley Head—and later Puffin Books—could not have found a more fitting successor to Heath Robinson. Adamson's eye for inventiveness and detail made his drawings eminently suitable as an accompaniment to the zany adventures of the dotty professor. Red Fox Classics re-issued The Peculiar Triumph of Professor Branestawm on July 3rd, 2003.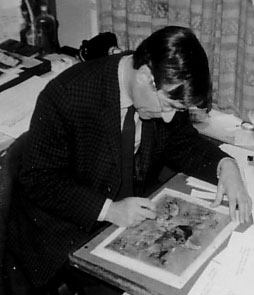 'Devoting much time and attention to the initial design of his work, [Adamson] then draws rapidly with a characteristically economical and elegant line.'
Brigid Peppin and Lucy Micklethwait, Dictionary of British Book Illustration in the 20th Century
Adamson ventured into full-scale authorship and children's book design with his Finding Alphabet (1965) and Finding 1 to 10 (1967), both published by Faber and Faber. The first of these reproduced oil paintings of groups of objects beginning with the same letters. The images bordered on the surreal but also challenged the vocabulary of both children and grown-ups to find as many objects beginning with those letters. Mike Wilks was able to pursue the idea in his book The Ultimate Alphabet (1986) in a decade when higher quality colour printing at an accessible price was possible.
For Widdecombe Fair, Adamson let his imagination loose on the old ballad song. After living for many years in Devon, he was able to capture most evocatively the Westcountry flavour. He later published a illustrated poster version of the ballad. Copies are still available at £5.99 incl. p+p from the George Adamson Archive.
For a full listing of Adamson's books, see Book Illustration
Notes
1 Dr Berthold Wolpe, OBE, RDI (1905–1989), was born in Offenbach, where he trained with Rudolf Koch (1876–1934) at the Kunstgewerbeschule from 1924 to 1928. He then taught at the art school in Frankfurt from 1929 to 1933. In 1932 the typographer Stanley Morison invited Wolpe to design for the Monotype Corporation a printing type of capital letters based on the lettering Wolpe had created for bronze inscriptions. This was the beginnings of the Albertus typeface that was to become almost a trademark of Faber book covers and jackets for many years, and was to be used to good effect by Adamson in his Finding Alphabet and Finding 1 to 10, both on the jackets and inside. Wolpe worked for Faber and Faber from 1941 until his retirement from full-time employment in 1975. A 'retrospective survey' of Wolpe's work was held at the Victoria and Albert Museum, London, in 1980. See The Albertus Pool.
2 Kaye Webb (1914–1996) was editor for Puffin Books from 1961 to 1979. After working for Picture Post and Lilliput (launched in 1937), she set up a publishing firm (Perpetua Books) with her husband the illustrator Ronald Searle. She became editor of the chilldren's monthly magazine Young Elizabethan in 1954. She then succeeded as editor at Puffin on Eleanor Graham's retirement. The magazine Puffin Post was launched in March 1967.