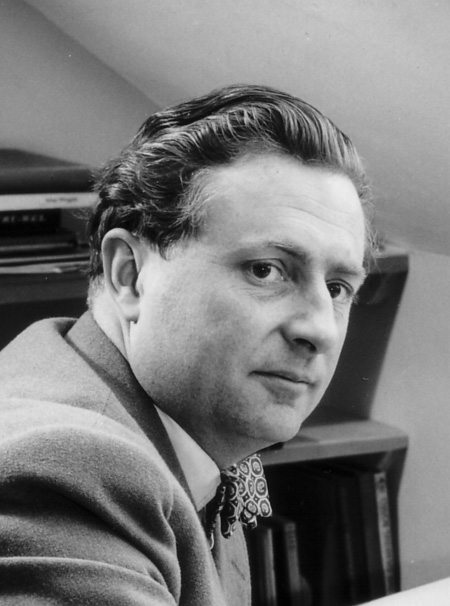 Desmond Sawyer 1919-2008
Desmond Guy Sawyer was born at Stansted, Essex on June 5th, 1919, the son of Alfred Sawyer, a stockbroker, who committed suicide when Desmond was 14 years of age. His mother had died the previous year. This meant cutting short his education and entering the merchant navy for a short time.

From 1935 he embarked on a drawing programme with Berry's Electric, which took him through the design and factory processes. He later returned as chief designer.

He served in the Navy during the war and swiftly rose to the rank of lieutenant. While working on secret weapons, an explosion occurred which resulted in his spending a year in hospital. He was finally invalided out of the Navy, much to his sorrow.

At that time he embarked on a mammoth venture buying and converting – when materials were scarce – a full-length canal boat. He then toured his boat around the Midlands. As there was no engine in the boat, he pulled it, sometimes with the assistance of a horse, ending up at Frampton after a 400-mile journey. His progress was closely followed by the BBC, who took interviews on the towpath! The trip was a considerable feat considering there were no other private boats on the canals at that time.

He obtained an ex-serviceman's grant to study design at the Central School of Art, achieving his diploma in two years rather than three.
Desmond moved to the West Country and designed and made cane light-shades in Frog Street, Exeter. Later he set up his workshop on the Strand at Topsham on the River Exe, deliberately employing only disabled staff for a number of years. There he widened the scope of his activities: using polythene coating on tubular steel to make saddle racks, music stands, stools and chairs, as well as designing and making luxury household goods out of plastic-coated wire and basket weave. Among his customers were the big London stores. His showroom, 'The Key', built in a converted forge, came into being when he decided to sell Scandinavian furnishings, which soon extended to glassware and pottery by other craftsmen and his own lighting.
After retirement he settled in Norfolk on the Broads in order to continue to pursue his love of sailing. In his lifetime he covered many nautical miles in his several Dutch boats, with trips to Holland and down to the Bay of Biscay.
He died in Norfolk on February 7th, 2008.
Bibliography
'The Key and Desmond Sawyer', Devon Life, vol. 3, no. 24, February, 1967, pp. 72-3

Work in private collections
His work features in many private collections.