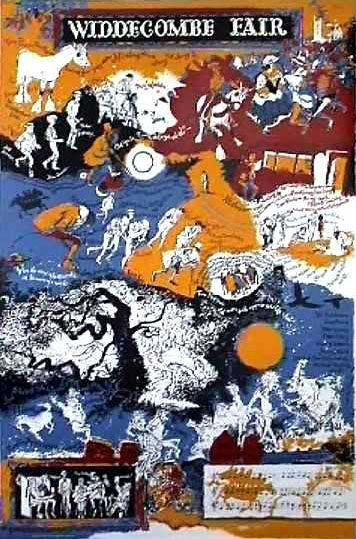 Widdecombe Fair
The title of the traditional ballad set on Dartmoor in Devon usually spells Widdecombe with two d's though the village is known as Widecombe-in-the-Moor. The ballad lent itself perfectly to the artist George Adamson's witty pen. Adamson was not a Devonian but lived in Devon for many years. Faber & Faber published his book of the ballad in 1966, but sadly it is now out of print. Later, however, he adapted his illustrations to make the poster shown here, copies of which are still available from the George W. Adamson Archive.

Everything is there: the words, the drawings, the musical score -- indeed Old Uncle Tom Cobley and all!

Poster size: 35.4 × 23.6 in. (90 × 60 cm)

Click on the poster to see close-up details.

Click here
to order the Widdecombe Fair poster (£5.99 incl. p+p).
Widdecombe Fair publications by George Adamson
Widdecombe Fair a poster of the ballad designed by George Adamson is available at £5.99 including postage and packing.
Widdecombe Fair with illustrations by George Adamson, Faber & Faber, London, 1966, ISBN 0571 065597
' ... there is humour and sly detail to delight an observant child.' Janet Bruce, The Tablet, 3rd September 1966
The book is out of print but copies are sometimes available through www.abe.com.

Back to George Adamson Book Illustration Page